Clinical-grade products + professional treatments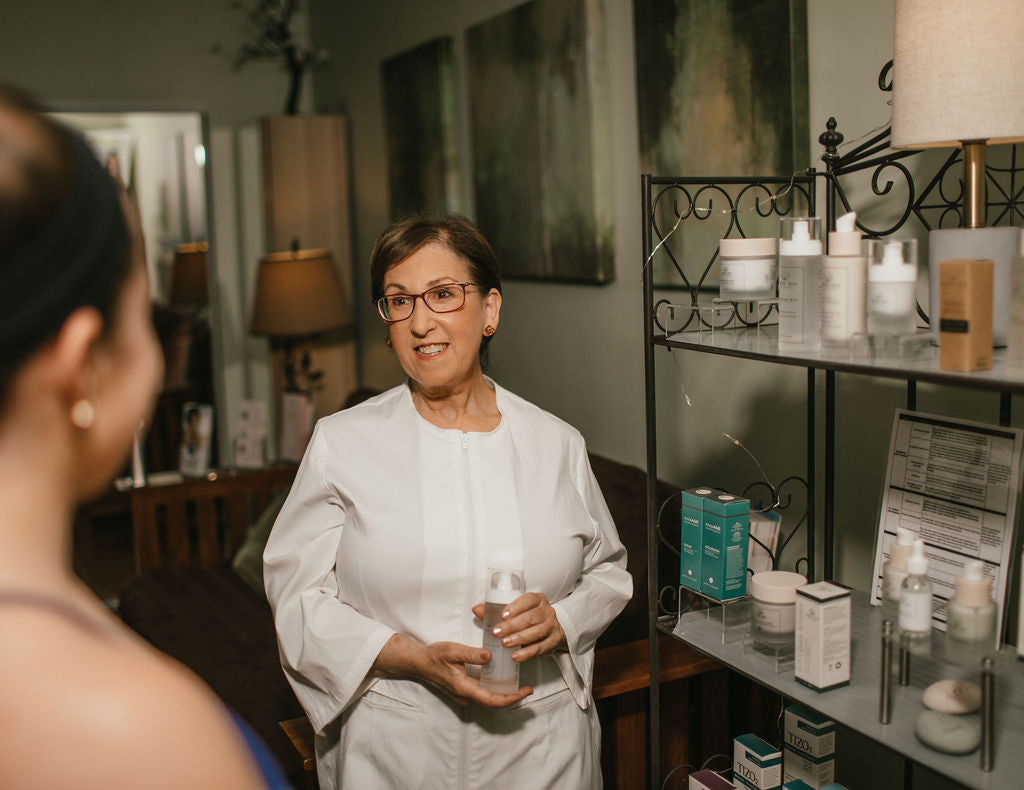 The program combines clinical-grade products - customized for your type of acne with a series of bi-monthly treatments. The Clear Skin Bootcamp has a *90% success rate of clearing the skin in 3-4 months, depending on your type of acne. Significant improvements will be seen within 6-8 weeks.
Acne Experts in Los Angeles
Face Reality Certified
Fern and her staff of Certified Acne Specialists are trained in Face Reality's exclusive approach and they are ready to set you up with a customized plan that will deliver life-changing results.
Products are gluten-free.
See Services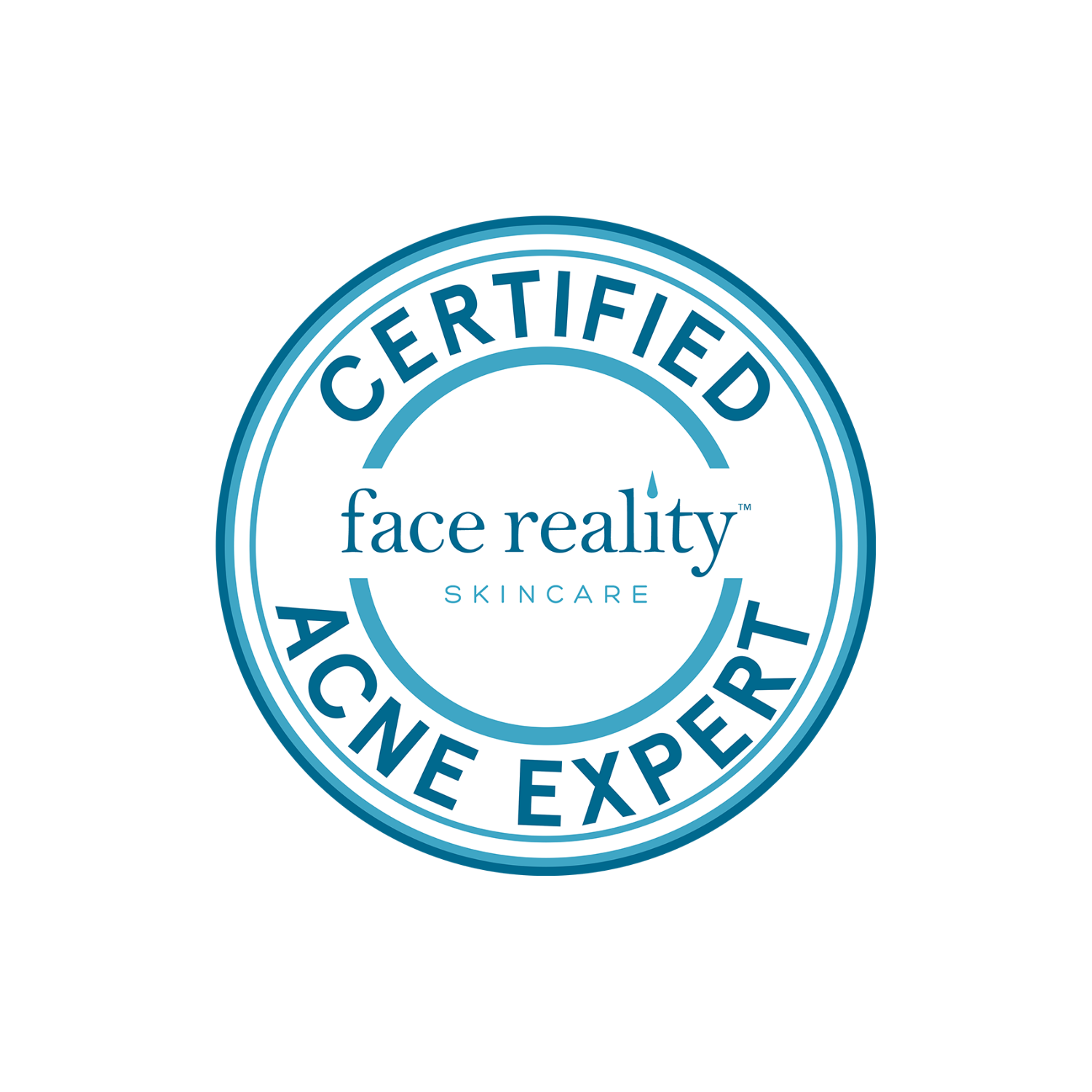 $195, 2 Hours (includes your 1st Boot Camp Facial)
For the FIRST-TIME Boot Camp client.
You'll learn about potential acne triggers, lifestyle factors, and your acne & skin type. You'll receive an acne treatment with extractions and 2 sensitivity tests so we can determine your personalized Face Reality Skincare routine.
The products are not included in this cost & are an est. $212. You'll also be taught how and when to use your at-home routine. You will be given a folder to refer to later.
$90, 45min - $110, 75 min.
This is your in-house, bi-weekly acne treatment while you are a Clear Skin Boot Camp program member. Inflamed acne clients receive the Boot Camp + LED at $110.
Clear your acne from home!
Start with a FaceTime Consultation
$75; 60min
During this call, you'll learn about your acne type, potential triggers and your next steps for homecare and lifestyle changes through a personalized consultation with your Clear Skin Coach.
After this consultation, you'll have bi-weekly check-in's during your program
$20, 15min
The Program
Your investment includes in-person treatments and specialty products.
Your initial product investment is approximately $220
Replenishment needed every 8-12 weeks. (See more product details below)
The cost of treatments are $70-$90.
It often takes about 6-12 treatments over a 3 to 6-month period of time to see results depending on the type of acne and client compliance. Significant improvement is usually seen at the 6-week mark.
We have been trained in the Face Reality Acne Protocols which work by taking into account the type of acne you have, the type of skin you have, and how fast your skin adapts to products.
We will push the skin to clear with products that penetrate the pore where acne starts. WE don't push it past its tolerance, however, because we don't want your skin to become dry and irritated. The products prevent the new acne lesions from forming; we extract the existing acne lesions and in about 3-6 months your acne is under control.
Yes, this is part of the program. There are too many brands in the marketplace that contain pore-clogging ingredients. To ensure clear skin, you must use the Face Reality products alone. Acne is tricky enough to treat – we do not want to take any chances with other potentially harmful or comedogenic products.
The initial investment on products & supplements is around $220.
These will give you the right start in making the lifestyle changes required to get clear skin.
Most products will last about 8-12 weeks depending on the products and the regimen that you are placed on.
The active ingredient products are purposefully put in smaller containers as these will be strengthened at different points in your treatment plan.
PRODUCTS ARE GLUTEN-FREE
You will need to use products to control your acne or until you outgrow acne and no one knows when that is. Many people do outgrow acne, but we are unable to predict when, so you may have to use the products for a while to manage your acne, but not forever. Keep in mind that acne can be managed, not cured.
Yes, it is in your best interest to get acne treatments in-house. That is the fastest way to get clear. It also helps me to monitor your home care to get you clear in the safest and fastest way possible.
Your skin will be cleansed and tested for sensitivity.
If you are dehydrated, you'll receive a hydrating enzyme treatment, otherwise you'll get a gentle chemical peel, extractions and finishing products, along with sun protection.
The high-quality, blended corrective peels have multiple purposes including thorough exfoliation, softening of comedones, and lightening of pigmentation. They also prepare the skin for maximum absorption of your homecare products. These are "superficial" peels and won't cause downtime.
You'll be required to stop your prescription medicines 2 to 4 weeks before starting on our program. These medications make the skin much too sensitive to use this system. Therefore, we ask that you discontinue the use of any medicines. Quite simply, you would have to choose between this program or the prescription products that you are using.
Acne is challenging enough to get under control. In order to eliminate the variables, you'll be required to use only the Face Reality products that we recommend. We don't want to wonder which outside product is causing a problem.
If you do your homecare twice a day and come in every two weeks for a treatment, your skin could clear in 4-6 months. This is not a guarantee. Some skins take a little longer, depending on the nature of their acne and how closely they follow the recommended home care guidelines they are given.
In our experience, it is harder to clear clients on a diet without any animal products. We have vegan clients and have had to inform them of this.
Vegans often break out due to the higher amounts of processed foods they eat, as well as possible hormone imbalances due to low vitamin/high estrogen (soy) diets. There are some animal-derived vitamins and minerals that are necessary for optimal skin health.
The Appointments
The first consultation and treatment appointment is 2 hours and subsequent appointments are 60-90 minutes. When you start to get clearer and there are fewer extractions to do, treatments will take less and less time.
We consult with you about your experience and any prior treatments that you have had, if any.
* We will analyze your acne and help you figure out what is causing your particular condition.
* You'll receive useful information regarding products, medications, diet and lifestyle recommendations, and more.
* We will take preliminary pictures to track your progress and take them about once a month.
* Your skin will be tested for sensitivities.
* You will receive a routine suited for your acne type and you will learn how to use the products.
* You will receive your first acne treatment with a gentle hydrating enzyme along with extractions.
*Generally speaking, neither of these are uncomfortable. You may or may not experience some micro-peeling after these treatments.
It's the fastest way to get you clear – We extract the current lesions and your home care prevents the new ones from forming. It takes up to 90 days for acne to form and reach the surface of your skin so in the first 3-4 months, you'll continue to see breakouts. These are just old lesions coming to the surface that we will extract every two weeks.
Extractions can cause slight discomfort but the process is tolerable and crucial to promote the healing process.
Some people do get red from the extractions, but we are careful and cautions extractors. We know that if the cellular debris isn't ready to come out, we don't force it.
The products you'll use during the boot camp will soften your skin and extractions should become more productive over time.
However, some people are sensitive no matter what - just let us know so we can be extra gentle with you.
Most clients do not walk out of the studio looking like a tomato! But some skins are more reactive so that redness will fade gradually within a couple of hours or sooner.
Depending on the type of acne you have and your skin's sensitivity, this may take a bit longer to subside. Icing is great for redness and so is the blue LED light. You'll learn more about that once you come in for treatments.
Yes. These ingredients and treatments thin the skin and make it too sensitive for treatments.
• No waxing 3 days before or 3 days after any facial
• No exfoliation 3 days before your acne facial
• Discontinue use of all Retinol/Vitamin A products at least 1 week prior to your appointment. Once you are clear, you'll be in maintenance and once clear skin has been maintained for 6+ months, we may add our acne-safe Vitamin A to your home routine.
I suggest that you wait at least a week, preferably two weeks, before you come to see me. I don't want your skin to become too irritated during a treatment or too irritated to use my home care system.
It is a standard business practice to hold your appointment with a credit card number. We want to know that you are as serious as we are about helping you achieve clear skin.
The Studio
No, there are no physicians on staff. This is a small studio with 3 acne estheticians, licensed by the State of California.
How are estheticians different from doctors?
We have more time to spend with you than a busy doctor. We can listen to all of your skin care concerns. We stay updated with the latest research about acne. We have the best and most effective acne products that do not require a prescription. Fern and her assistant, Elle, are compassionate and empathetic clinicians who understand what you are going through. We will give you honest and straightforward answers to all of your skincare questions. If we don't know the answer, we'll do the research. We will keep in close contact with you throughout your process of getting clear, making sure that your home care is working properly and that your skin is responding well. We are hands-on with you in working with your skin, your skin type, and your acne type and always do extractions in your treatment appointments.
We see clients at whatever age they are breaking out. Acne does not discriminate – neither do we. Minors need to be accompanied by an adult and guardians need to give consent to treat them.
You can still receive acne treatments but first, you will have to get a list from your doctor about which ingredients they want you to avoid.
We have a handout here about the safety of the products, but your doctor's approval is our guidepost.
If you have dark spots. those will be treated along with the acne. If you have pitted scars, often the exfoliation in-house along with your home care will help with smoothing those scars.
When your acne is under control, we can discuss nanoneedling, a process which encourages the skin to plump to reduce depressions in the skin.
Yes, we do treat this condition with pretty good results.
Besides acne, we can also treat rosacea with calming and hydrating facials. Acne Rosacea responds well to this protocol. We offer peels and microdermabrasion for skin rejuvenation. You can explore our menu of services here
No, but we offer a referral discount! For every person you refer to our practice, you'll receive a $20 discount coupon to utilize towards your next product purchase.